Why Choose Beswick Relocation Services
An award-winning Relocation Management company
Beswick Relocation Services is an award winning Relocation Management Company established in 2000, and in the years that have followed we are proud to have attracted and retained a host of blue chip organisations as valued clients. They share our commitment to providing a tailored and highly personal service, with a range of Domestic and International products supported by the wealth of experience and professionalism expected in such an emotive field as relocation.
We are committed to offering the highest level of personal service to relocatees and personnel executives, delivering measurable value and results. We offer a comprehensive range of services, which result in smooth and timely employee relocations, financial benefits to clients and relief of administrative responsibilities. This philosophy is built around service delivery, meeting the needs and expectations of each individual, and being there when they move.
One dedicated Consultant per Relocation
We operate uniquely in that one BRS Consultant oversees the entire end-end Relocation process of an employee as opposed to many points of contact for different disciplines. This means that our company offers total accountability, consistency and flexibility to our Clients and their relocatees throughout the process.
Proven track record
We have been established for 20 years, during this time we have attracted and retained a large, diverse and enviable client base. We have undertaken numerous high profile group moves and our success, feedback and experience has resulted in a reputation in the Relocation Industry that is second to none.
Independent
We are wholly independent and not influenced by any third parties, which means that our relocation solutions are objective, offer value for money and are entirely transparent. Our ethos results in a strong, agile and reactive company that our clients can trust with confidence.
Flexible & Tailored Solutions
Whether global, national or local each move matters to us and no two Relocations are the same. All our services can be adapted to suit individual needs, with a commitment from us to go above and beyond as a matter of course.
Free online solutions
To enhance the delivery of our services we have developed a full range of innovative and highly cutting edge on-line solutions including client portals for 24/7 case management tracking and employee apps to support them on the move resulting in seamless relocation. We undertake investment in technology by our own design using specialist developers meaning we are able to control and up-grade our technology relevant to our clients requirements, as opposed to being limited to restrictive 'off the shelf' one size fits all licenses.
Planning
The way we plan each relocation is unique within the Industry. We form an inclusive relationship between the client, the Relocatee and ourselves during the planning of the Relocation. By getting it right first time and at the earliest opportunity, we ensure that informed decisions are made which reduces future employee query and abortive Relocation significantly.
" Thank you and it is great that we have got to a good conclusion with this relocation, I had my doubts at certain points so thank you for all your guidance and support. " About us and our people
We are very proud of the personal hand-holding service we provide to our clients and their relocating employees, and this would not be possible without our dedicated team of relocation specialists. We pride ourselves on being a people company and our staff are at the heart of what we do, bringing the benefit of a range of experience, life skills and personal values to the support we provide. In addition we strive to achieve excellence in our industry and are proactive in actively supporting the various associations within the the UK and beyond.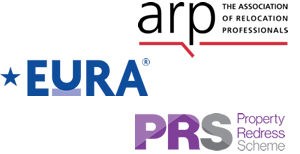 Experienced and Fully Accredited
Beswick Relocation Services take professional standards extremely seriously, and have a long history supporting excellence within the relocation industry. We are proud members of the Association of Relocation Professionals (ARP), and the European Relocation Association (EURA).